yukko* takes photographs as a way of expressing respect for everything that exists on earth. This way of thinking is strongly influenced by the Japanese understanding of nature. In Japan it has been believed that there are gods in nature.  From her experience of different cultures when living overseas and of meeting people from different countries through her career as a translator, she has come to know the differences in how people regard nature. She recognizes in herself the inherent, traditional Japanese respect for all aspects of the natural environment.  She converses with every subject she photographs. She says she sometimes senses a refusal, in which case she stops. In those cases, she believes she will not be able to take a good photograph no matter what.
When she takes pictures, she says she looks into the eyes of the subject, even when it physically does not have eyes.  By "looking into the eyes," she means that the subject makes a special connection with her, and she with it.  When this happens, she takes her camera and lets her lens capture that look.  It is only when her own energy, the energy of the subject, and the energy surrounding them meet that she can create, she says.
Born on the earth as a part of the huge wheel of life, she shows respect towards every element of the environment, a respect epitomized in her work.
yukko*の写真作品のテーマは自然をリスペクトする思いです。
自然に向かうとき、yukko*は草や木がそれぞれに持つエネルギーを感じることを大切にし、それをフイルムに焼き付けて必要としている人に届けたいという思いで写真を撮っています。日本では、多くの人が八百万の神に表されるようなアニミズム的感覚を理解することができますが、世界の多くの国々ではそれが当たり前ではないことをこれまでの海外での滞在経験から感じたことで、yukko*は日本人が感じる自然への思いを世界に向け表現したいと考えるようになりました。

yukko*は「自然と目が合ったとき」にシャッターを切っています。その瞬間を、yukko*は自分と被写体とそれを取り巻く場が一体化したときと理解しています。地球に生まれ、この大きな生命の環の中で、yukko*は自然への畏敬の念を込めて写真を撮り続けています。

なお、yukko*の写真にはフィルターやコンピューターを使った加工・修正は一切行われていません。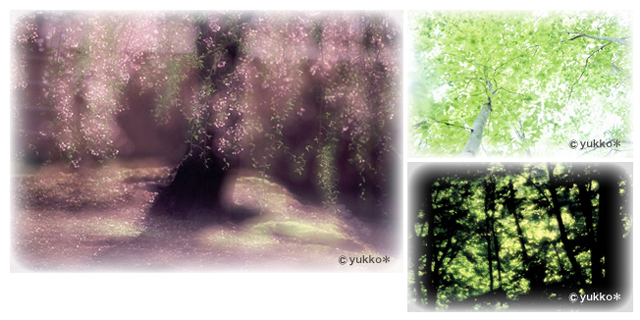 More recent works can be seen in the archives page.

All photos are available for purchase in the form of prints.
Price varies by print size.(13×18cm(5.12×7.09inches)18,800 Japanese Yen to 45.7×56.0cm(18×22inches) 100,000japanese Yen)

Enquiries for prints and image usage officevivid@gmail.com
写真の販売について